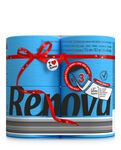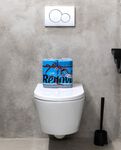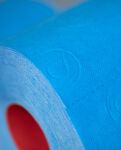 Double Faced Blue Toilet Paper 4R
Shipping in 2 business days
Long lasting rolls, taller sheets and a new delicate color for the sexiest paper on Earth.
Double faced paper: inner white layer and an outer two-ply blue-colored face for a stylish added strength. More absorbent and total comfort.

- Woody scent
- 100% virgin pulp
- 4 roll pack
- 180 sheets per roll
- 20,7 m per roll
- Colorfast for its intended use

This product is made of FSC®-certified and other controlled material. By choosing this product, you are supporting responsible management of the world's forests (FSC® C136137).

Celebrate your true self.
Show your true colors.
3-Ply Tissue Paper
Lightly Scented
Dermatologically tested
Double Faced Blue Toilet Paper 4R
I want to select something different