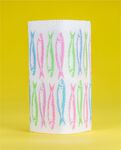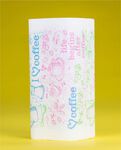 Design Paper Towels XXL 3R
Shipping in 2 business days
We've mixed all the ingredients for your pleasure and fun and the result is an amazing wide range of unique patterns. A different illustration on every roll inside each single pack.
- Printed over white tissue
- Sheet:215x228mm
- 60 sheets per roll
- 3 XXL rolls per pack
- 3 XXL = 4.5 standard*
*A Renova standard roll equals 9,1 meters.
Note: This picture is not contractual. Your rolls could have different printed rolls.
This product is made of FSC®-certified and other controlled material. By choosing this product, you are supporting responsible management of the world's forests.
2-Ply Tissue Paper
FSC® C136137
Design Paper Towels XXL 3R